Welcome!
March 5, 2017, SVAS presents the talented Due Zighi Baci. Please join us for a fantastic Mardi Gras performance! This month only, our featured performers will start earlier than normal, come at 1:00 for a good seat!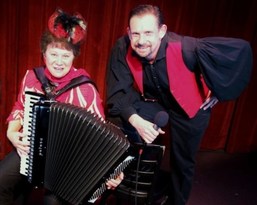 Due Zighi Baci
Sheri and Michael always enjoy their concerts at the SVAS. The club's enthusiasm makes the trip worthwhile. "Due Zighi Baci" means "Two Gypsy Kisses." It reflects their passionate dedication to Italian and Neapolitan music. In early 2007, Sheri placed an ad in Craigslist for a tenor who could sing in Italian and the Neapolitan dialect. She had to replace a tenor in her ensemble. Michael knew the Italian classical repertoire but once she heard his gorgeous voice, she knew he'd be great on the popular songs as well. Michael worked diligently at learning dozens of Italian popular songs, and he worked on Italian American pop standards that crossed over into the American jukeboxes and Hollywood movies during the 1950s. Michael is currently working on a cowboy opera using Schubert's music. It is hilarious and it's sure to be a success!
After concentrating on the Italian repertoire, Michael and Sheri expanded into French music. His pronunciation and rendering of this difficult language is phenomenal. He always receives many compliments for his expressive ability to sing in this language. Bastille Day (July 14) provides them both with one of their busiest weeks of the year! After they performed at the Cotati Accordion Festival, they added the American Songbook standards to their repertoire. They have an enormous combined song base representing about 600 titles.
Sheri is always busy transcribing, converting, and arranging sheet music and performing it. Over the last summer, her business Zighi Baci Publishing sold her arrangement of a rumba to Hollywood. It will be heard in a movie that should soon be making the rounds in the theaters. It's actually a British Romantic Comedy "Their Finest" and it is directed by Lone Scherfig. You'll hear her on accordion (with mandolins) during a scene that takes place in an Italian restaurant during the blitzkrieg in London (World War 2). In addition, Sheri is writing a social history on Italian mandolinists and Italian music publishers who arrived in America c. 1900. The story covers the development of the dance music that traveled across the United States and finally arrived in San Jose where she learned about it. It is a sequel to her other book "Mandolins, Like Salami."
Michael and Sheri specialize in the music associated with the Mardi Gras holiday! You'll hear Michael's interpretation of Satchmo's "Birth of the Blues" and many other bluesy renditions of "House of the Rising Sun" and the "St. James Infirmary." Laissez les bon temps rouler! Let the good times roll! This is what they shout in New Orleans during Mardi Gras! Dozens of parades march during this special time. It's a party that lasts for weeks.
Due Zighi Baci's concert will include Sheri playing Cajun music on button box and you're invited to dance and party! Do you have a washboard? Bring it along for the party. Get ready to enjoy "Jambalaya" and "Blue Bayou" and other Cajun style classics played by Sheri. Of course, we all know that Michael has a set of pipes to belt out the most beloved songs in the Mardi Gras parade! You are sure to hear one of your favorites sung in French and in good ol' American lyrics.
Laissez les bon temps rouler! Let the good times roll! And don't forget to wear your beads, feathers, and costumes if you are so inclined.
​Y
ou can find out more on the Due Zighi Baci website at:
eurotenor.wix.com/due-zighi-baci
---
Silicon Valley Accordion Society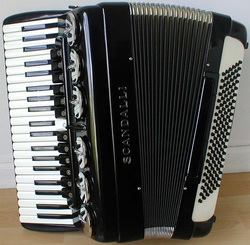 Silicon Valley Accordion Society meetings are held the first Sunday of each month at

Harry's Hofbrau
390 Saratoga Avenue
San Jose, CA 95129
at the corner of Kiely Blvd.
Click this link to see a map:
Map to Harry's Hofbrau
Doors open at 1:00PM, the program begins at 1:45. The door fee is $5, under 16 - no charge.
We invite you to visit one of our meetings and listen to wonderful performances by our guests. Our members are more than happy to answer any questions you may have about SVAS and how you can join.
We value your feedback; send us your comments and suggestions. By building an effective web site, we hope to get our message out to a larger audience of people interested in the accordion.
Happy squeezing!
Pam Kawashima
Webmaster of SVAS
email: pamk@svasociety.org
---