Welcome!
Join us on September 10, 2017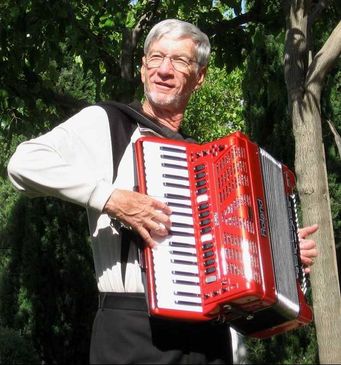 Richard Noel
Richard Noel, originally from Portland, Oregon, is a retired Professor of Psychology from CSU Bakersfield. He played in numerous accordion contests as a youth, culminating in a first-place solo trophy at the American Accordionists' Association contest in New York City at age 18. During his
teaching career he played a few times a month with a combo, mostly for dance music.

After retiring, the V-Accordion provided the impetus to expand his career in creative ways. He has uploaded well over 30 songs on YouTube at his "BakersfieldAccordion" channel. These include a variety of songs arranged by Richard specifically for the Roland FR-7x, including "Il Postino," "Thus Spake Zarathustra," "The Good, the Bad and the Ugly," "Phantom of the Opera," "The Swan," "Padam, Padam," "Harlem Nocturne," and "Pink Panther."

He uses his own specially programmed registers and soundsets that allow
him to instantly change styles as needed, and these sets have become
popular additions for Roland owners across the world. His youtube videos include not only numerous songs but instructional videos on programming and playing the FR-7x, FR-3x, and FR-1x, and even a description of his homemade accordion stand. The total views of his channel are currently more than 800,000. Richard resides in Bakersfield, CA.

Il Duetto Musica
​We'll also be seeing two new performers to the club. Il Duetto Musica will be performing for us for the first time. They will be on stage at 2:00pm.

Il Duetto Musica is a delightful mix of Opera & Popular Italian Street Songs featuring the talents of soprano Gloria Mendieta Gazave and accordionist Paul Aebersold. Enjoy a nostalgic tribute to the charm of Italy as you listen to such favorites as Arrivaderci Roma and Puccini classics from La Bohéme and other great operas. Gloria & Paul take you on a Gondola ride through Venice with romantic songs, lively music, and colorful costumes for an evening of musical treasures.

Gloria Mendieta Gazave is a classically trained soprano from San Francisco, CA with a background in Musical Theater. Her repertoire spans Opera, Oratorio, Art Songs,Broadway and Popular Ballads.

Paul Aebersold realized his love for music as a child listening to his mother play the accordion. He is accomplished in German, Italian and French Accordion music. He has played on both coasts as well as in the French Embassy in Washington DC. He has recently moved to Redwood City.

Please join us to see these fantastic performers! You will not be disappointed!
---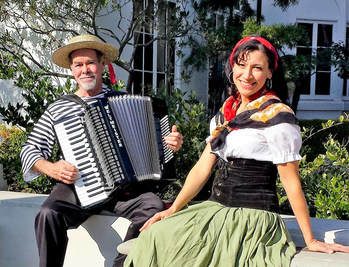 Join us on October 1, 2017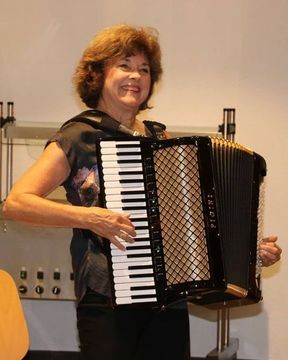 Gail Campanella
As a youngster growing up in a large Italian family, on a farm, in northeastern Colorado, Gail showed an interest in the only musical instrument in her home, her mother's old accordion. Her formal music lessons began at age 10 in Ft. Morgan, Colorado.

Gail became the town accordion teacher at age 14, when the local accordion teacher retired. During high school, she made monthly 80-mile train trips to Denver to study with Anthony Pennetti and to play in his accordion orchestra.

She majored in piano at Loretto Heights College in Denver while continuing her accordion studies with Prof. Robert Davine at the University of Denver.

After graduation, she played "honky-tonk" piano in Central City, Colorado, and taught 4th, 5th, and 6th grade music in the Denver Public Schools. She studied the Orff and Kodaly methods of music education and received certification in Orff-Schulwerk.

Gail performed in the 2013 and 2017 Cotati Accordion Festivals. She has been guest artist for the Silicon Valley Accordion Society (2016), San Francisco Accordion Club (2015 – 2017), the 2015 Orange County Big Squeeze, the Chicago Accordion Club (2016), the Las Vegas Accordion Convention (2016), the Washington Metropolitan Accordion Society (2016), and the SB City College Jazz Band. She was a member of the 2015 National Accordion Orchestra in South Bend, IN, under the direction of Gene Van.

Gail is a member of the Los Angeles Accordionaires Pops Orchestra directed by Janet Hane, and is VP of Santa Barbara's Accordion International Music Society (AIMS). She gives private accordion lessons and performs on both accordion and piano. She is currently a member of a team to pilot a beginning accordion class in a Santa Barbara elementary school.

Gail's solo CD entitled, Discovery (2016), is dedicated to her family and life on the farm in Weldona, Colorado. The CD is available on cdbaby.com.


Gail and her husband, John, live in Santa Barbara, CA, and are parents to GianCarlo, Dino and Veronica.
---
Silicon Valley Accordion Society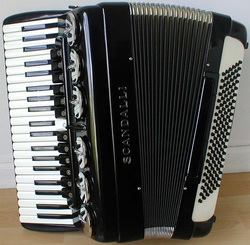 Silicon Valley Accordion Society meetings are held the first Sunday of each month at

Harry's Hofbrau
390 Saratoga Avenue
San Jose, CA 95129
at the corner of Kiely Blvd.
Click this link to see a map:
Map to Harry's Hofbrau
Doors open at 1:00PM, the program begins with members playing their accordions. The door fee for members is $5, $10 for non-members, under 16 - no charge.
We invite you to visit one of our meetings and listen to wonderful performances by our guests. Our members are more than happy to answer any questions you may have about SVAS and how you can join.
We value your feedback; send us your comments and suggestions. By building an effective web site, we hope to get our message out to a larger audience of people interested in the accordion.
Happy squeezing!
Pam Kawashima
Webmaster of SVAS
email: pamk@svasociety.org
---