Welcome!
October 2, 2016 SVAS presents Gail Campanella. Please join us for a fantastic performance!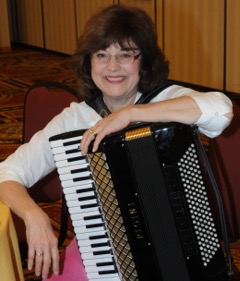 Gail Campanella
As a youngster growing up in a large Italian family, on a farm in northeastern Colorado, Gail showed an interest in the only musical instrument in her home, her mother's old accordion. Her formal music lessons began at the age of 10 in Ft. Morgan, Colorado, where she enjoyed lessons and participated in annual accordion contests, Kiwanis Stars of Tomorrow, talent shows, and many other local events.

Gail became the town accordion teacher at age 14, when the local accordion teacher retired. During high school, she made monthly 80-mile train trips to Denver to study accordion with Anthony Pennetti and to play in his accordion orchestra.

She majored in piano at Loretto Heights College in Denver while continuing her accordion studies with Robert Davine at the University of Denver.

After graduation, she played "honky tonk" piano in Central City, Colorado, and taught 4th, 5th, and 6th grade music in the Denver Public Schools. She continued to study the Orff and Kodaly methods of music education and received certification in Orff-Schulwerk.

Gail performed at the 2013 Cotati Accordion Festival in Cotati, CA. She has been guest artist for the San Francisco Accordion Club and was a solo performer at the 2015 Orange County Accordion Festival, Costa Mesa, CA, known as the Big Squeeze. She was invited to be a member of the 2015 National Accordion Orchestra in South Bend, IN, under the direction of Gene Van. She was guest accordionist with the Santa Barbara City College Jazz Band in Spring, 2016, as well as guest soloist for the Chicago Accordion Club (July 2016) and Washington Metropolitan Accordion Society in (Sept. 2016).

Gail is a member of the Los Angeles Accordionaires Orchestra directed by Janet Hane. She teaches private accordion lessons and performs on both piano and accordion.

Gail and her husband, John, live in Santa Barbara, CA. They have three adult children: Gian Carlo, Dino and Veronica.

Please join us, you won't be disappointed!
---
Silicon Valley Accordion Society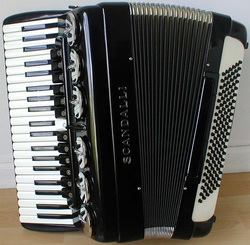 Silicon Valley Accordion Society meetings are held the first Sunday of each month at

Harry's Hofbrau
390 Saratoga Avenue
San Jose, CA 95129
at the corner of Kiely Blvd.
Click this link to see a map:
Map to Harry's Hofbrau
Doors open at 1:00PM, the program begins at 1:45. The door fee is $5, under 16 - no charge.
We invite you to visit one of our meetings and listen to wonderful performances by our guests. Our members are more than happy to answer any questions you may have about SVAS and how you can join.
We value your feedback; send us your comments and suggestions. By building an effective web site, we hope to get our message out to a larger audience of people interested in the accordion.
Happy squeezing!
Pam Kawashima
Webmaster of SVAS
email: pamk@svasociety.org
---