Welcome!
Join us on December 3, 2017 for a delightful performance by James Bianchi on Accordion and Ron Borelli on Keyboards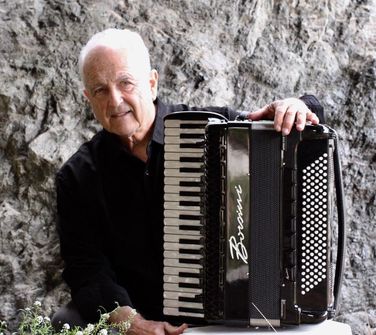 James Bianchi
Like many in the early 1950s, Jim had accordion lessons, and began to perform publicly at various kinds of events from school assemblies to luncheons. By the late 50s and early 60s, Jim was playing in various groups, and joined the musicians local in 1962 to play union gigs. Music helped pay the bills as Jim went through university.

A fortunate career followed in another profession, with only occasional time for practicing and playing. After an early retirement, Jim and his wife moved to Morro Bay CA. Jim got back into music through a local community college; in 2015, Jim began studying with Charlie Shoemake. He traveled the world with George Shearing in the 1960s as the vibes player, and is a pioneer in jazz education. Charlie has opened Jim's eyes to playing in new ways, and has shown Jim the beginning of that path to playing better…the path that never ends.

Jim's goal is to take you a little way on that path, and to share his love and joy of music with you.
---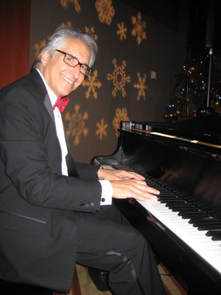 Ron Borelli
Ron Borelli began his love for music and entertainment through his parents. His father played tenor sax professionally; his mother played stride piano. Other members of the Borelli family played instruments as well, including accordion, clarinet, mandolin and drums. As a young boy, Ron would attend engagements where his father's popular band, the Al Borelli Orchestra, would be performing.

Throughout San Francisco, the Peninsula and East Bay, the Al Borelli Orchestra was very much in demand for weddings, parties and social occasions.

​This influenced Ron to begin his study of music at 7 years of age. His professional music career began at 14 years of age, when he played his first solo engagement as an accordionist for a San Francisco New Years Eve party. Ron continued to perform with the Al Borelli Orchestra while his sister, Carole, became vocalist for the band. At the same time, he formed his own trio at age 18.

With an early interest in jazz piano and accordion, Ron studied with the notable Don Haas and was influenced by pianists Oscar Peterson, Chick Corea, Herbie Hancock, Bill Evans and jazz accordionist Art Van Damne. After exploring many of the jazz styles, an interest in classical music developed which led to studying with the renowned classic pianist/composer Julian White.

---
Silicon Valley Accordion Society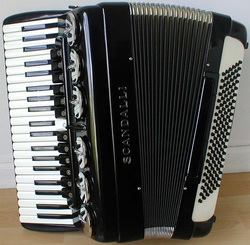 Silicon Valley Accordion Society meetings are held the first Sunday of each month at

Harry's Hofbrau
390 Saratoga Avenue
San Jose, CA 95129
at the corner of Kiely Blvd.
Click this link to see a map:
Map to Harry's Hofbrau
Doors open at 1:00PM, the program begins with members playing their accordions. The door fee for members is $5, $10 for non-members, under 16 - no charge.
We invite you to visit one of our meetings and listen to wonderful performances by our guests. Our members are more than happy to answer any questions you may have about SVAS and how you can join.
We value your feedback; send us your comments and suggestions. By building an effective web site, we hope to get our message out to a larger audience of people interested in the accordion.
Happy squeezing!
Pam Kawashima
Webmaster of SVAS
email: pamk@svasociety.org
---